English French Interpretation, Copywriting
and Translation Services
Get yourself heard globally
Your business is growing, and you wish to move things up a notch? Our translation agency, which is in Paris, offers linguistic services to spread your message across borders. Through the help of our team with native English French translators, we work on your official documents, brochures, and website. As for our English interpreters in the Paris region, they convey your messages, during your events and professional meetings.
We support you in your development, right from the launch to the expansion of your business. Your communication media will be in good hands with our agency made up of English and French copywriters specializing in legal, marketing and finance. You can now be at peace and handle your tasks while we take care of the rest.
Why should you choose TPA Optimal Translation and not any othr translation agency in Paris?
Far from the big multinationals, TPA Optimal Translation is a small agency made up of English translators and we are all based in Ile de France. Given that we are a human-sized team, we can genuinely devote ourselves to our customers and meet their requirements in real time.

We are available and attentive; Jigisha Leclair shall come up with the right solution for your project. Whether you require a professional translation or an interpreting mission in English or French, our service providers adapt to your needs.
English ↔ French
translation :
Our Parisian agency of experienced translators scrutinizes your digital content.
English ↔ French
interpreting :
Let your charisma dazzle, we take care of the rest. Our English interpreters based in Paris translate your speeches in real time.
English ↔ French
correction :
Our linguists track down errors in your communication media. No room for silly mistakes.
English ↔ French
writing :
In addition to our translation and interpreting services, we write your texts in English and French on all media.
Jigisha Leclair: The founder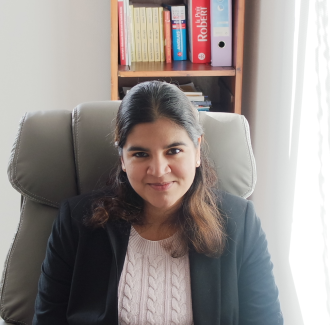 Jigisha graduated in 2009 with a degree in languages and literature from the Catholic University of Lille. Following which, she specialized in marketing and translation, Jigisha is fluent in English, French and Hindi. Her experience in communication provided her with the essential knowledge to launch her own translation and interpretation agency in Paris. Her main motivation? Forge privileged relationships with her partners and convey their message in a powerful manner.
At first independent, she took off until she founded TPA Optimal Translation. A human-scale company, which uses the best English French writers, interpreters and translators. Expert in regard to translation, she applies the same level of requirements to interpreting as well. Flexible and professional, Jigisha Leclair adapts to the constantly changing requirements of her clientele. The reviews speak for themselves.
Jigisha was perfect and extremely quick. I was very satisfied by the requested translation and won't hesitate re-using her services, if need be. 
Virginie
Virginie Lesage Art & Design
Jigisha works really quickly and is super rigorous with her work. We would definitely recommend her.
Romuald P.
CHOUIC
Many thanks Jigisha, we have been working with her in different areas. Her work and commitment is simply impeccable. We consider Jigisha to be an asset, we couldn't work without her. 
Tristan K.
UALOG
Not only is Jigisha kind but she is also very professional and dynamic! I am going to be entrusting her with more translations in the coming weeks!
Notaires
CONSEIL SUPÉRIEUR DU NOTARIAT
This is the second time we are working with Jigisha and we extremely satisfied. Jigisha has now begun translating the third batch of articles, which shows that we have absolute trust in her abilities. Jigisha managed proving her skills by translating highly specialized articles in the automobile sector. A great job!
Anne-Claire
Arnage Motors - Carjager
I asked Jigisha to translate a video interview but also articles on 5-star hotels and gastronomy, the experience was very pleasant. Jigisha is attentive to her clients, not to mention, she delivers her work in advance. I also appreciated the fact that she sent me a translation test beforehand, so that I could validate her skills before she began the task. I think, we'll be working in the long run! Thank you for everything!
Johanne
withladyjoe.com
Work entrusted: proofreading a legal consultation written in English. Results: The job was done on time, the proofreading and suggestions to rephrase sentences were pertinent, so were the quality of corrections. Icing on the cake, Jigisha is attentive and simply adorable. An excellent experience, I definitely recommend her.
Rosiane
Legal-Nomads, Law firm
Jigisha is extremely reactive and competent. Her proofreading was quick and efficient. I definitely advise calling upon her services for proofreading and translations.
Clara
A. de Rothschild Foundation
It's a genuine pleasure collaborating with Jigisha, who is always very devoted to her work. She is rigorous and receptive. The work is always done properly and on time!
SUSHI SHOP
MANAGEMENT
What more can I say but THANK YOU for such serious, quick and perfect work. It's a pleasure to work with Jigisha, who is always available. We can only recommend her. We'll be calling upon Jigisha once again, with great pleasure!
ETHICS FOR ANIMALS
Jigisha is attentive and efficient. She is always available and adapts to our requirements.
CARRÉ D'ARTISTES
Jigisha did a great job and was extremely reactive and receptive to translate an in-house training document, in marketing. I would definitely recommend her services!
Clement
MALT COMMUNITY SA